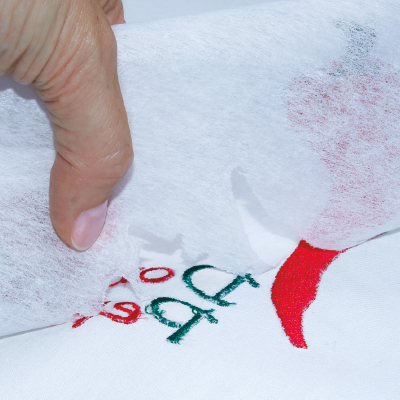 TEXTI 1875 white, 75cm x 100m
Product number:
661W1875-75
Please log in to see prices and make orders.
Product information "TEXTI 1875 white, 75cm x 100m"
The Optimum Stabilizer for all Fabric Types !
Product description
Perfect embroideries want the right base fabric, high-quality threads – and always a stabilising backing to bring out the best in both, fabric and embroidery design! Our range of embroidery nonwovens includes ideal stabilising solutions for all embroidery applications. You may need a cut-away or tear-away stabilizer, one with coating or a self adhesive non-woven - with a stabilizer that is well-suited for your base fabric, you will achieve best results in every respect - quality and productivity. Optimise your production with the vast variety!

Tear-away nonwovens are our standard embroidery nonwovens. A special fibre-structure technology facilitates horizontal, vertical and diagonal tearing of nonwovens and guarantees complete removal after embroidery, without leaving residues. The fast tearaway feature saves time and results in higher productivity during embroidery processes. And the smooth, neatly torn edges along finished embroideries increase their wear-ability